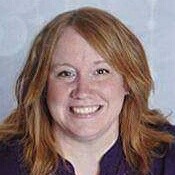 Megan Mallie, Director
Megan has been the Director at the Stanwood Public Library since November, 2021. She has lived in Stanwood for over 20 years and grew up in Mechanicsville. She lives with her husband, Brian; her daughter, Kamryn; her basset hounds, Cooper and Daisy; and cats, Nyx and Elvis. Megan loves reading mystery novels, as well as, historical non-fiction. She has experience planning and managing programs for children and teens and looks forward to having regular programs in the library.
Carina Tharp, Assistant Librarian
Carina has been the part-time Assistant Librarian for 2 years. She has lived in Stanwood all of her life. She lives in her childhood home with her son, Damien; her mom, Sharon; and brother, Michael. She loves to read, play games on her phone, and watch scary movies with her son. Her favorite book series is Janet Evanovich's Stephanie Plum. Her goal is to read 100 books in a year. She is also starting her 17th year at CDS Global in Tipton, Iowa.